ComiXology readers (like myself) were greeted with official changes to the digital comic book publisher and distributor owned by Amazon, today. I live in the UK version so I got the UK version, Which tells me;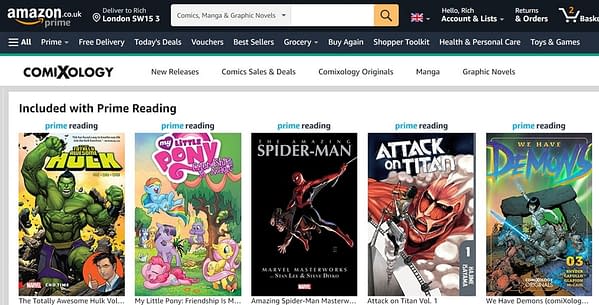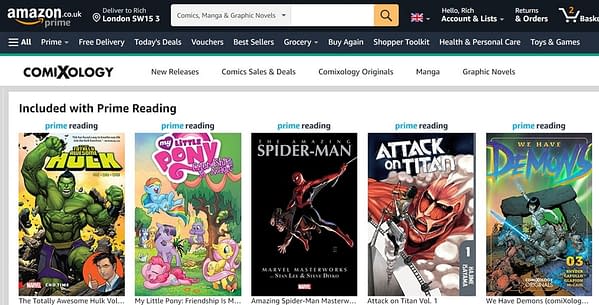 We are excited to announce that the team-up with Amazon is launching soon. Upon launch, the comixology UK store will redirect to a shopping experience on Amazon.co.uk and the updated comiXology app will launch. To stay up to date on when these changes will happen, follow us on one of our social channels: Twitter, Facebook, or Instagram.
The updated comixology.co.uk store includes: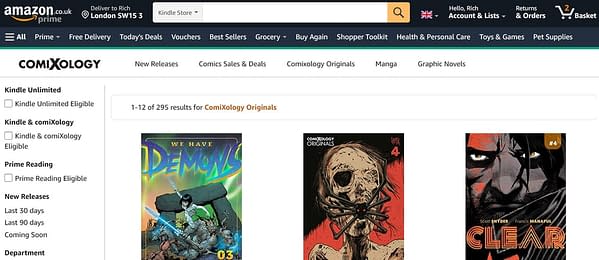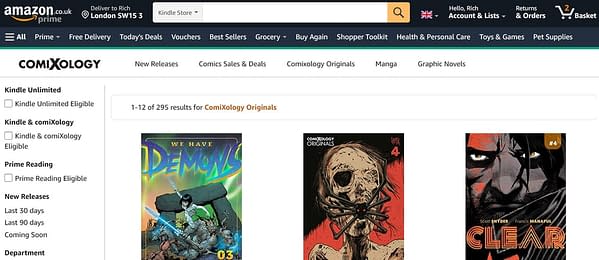 Here's the link for ComiXology as part of Amazon US. with ComiXology Originals, new releases and comics on discount. Not quite there yet… but when is this all happening? The FAQ suggests it will be on the 17th of September.
FAQ. What's going to happen to my pre-ordered comics?
If you pre-ordered a book on comiXology with a release date of no later than February 16 (including), we will fulfill that order for you (even if the old comiXology website is no longer available). Pre-orders for books with release dates starting February 17 will be cancelled and you will need to re-order them. We will be sending you an email with your cancelled pre-orders and links to their Amazon page so you can easily re-order your books. Once you've re-ordered on Amazon, you can manage and delete your pre-orders by visiting the "Digital Orders" tab under the 'Your Orders' page on Amazon – see here.
Here are some more:
FAQ 1. What is happening to the old comiXology website?
The old comiXology website will re-direct you to shop for comics on Amazon. You will be able to browse, discovery, and enjoy an even larger selection of comics, manga and graphic novels.
FAQ 2. I live in the US/UK – how can I shop for comics, manga and graphic novels on the Amazon website?
We launched a brand new store experience on Amazon dedicated to comics, manga and graphic novels, including new releases, personalized recommendations and more! US customers can visit our new US Comics Store on Amazon.com. UK customers can visit our UK Comics Store on Amazon.co.uk.
FAQ 3. I live outside the US/UK – how can I shop for comics, manga and graphic novels on the Amazon website?
Customers who live outside of the US/UK (whose preferred marketplace in settings is not US or UK) will be required to make their purchases through their local Amazon marketplace site. See below for some quick links to help you discover digital comics on your regional Amazon marketplace. Any comics purchased through Amazon marketplace site can be read in the new comiXology app update.
Customers who borrow comics through Kindle Unlimited and Prime Reading programs through Amazon websites and Apps or Kindle app an access these books in their library in the comiXology app update.
FAQ 4. Can I still download DRM-free backups of my comics?
Yes. DRM-free downloads will be available (in PDF and CBZ format) for eligible purchases made on the old comiXology website or app. You can access your eligible books via your comiXology account settings page on Amazon (UK customers – click here). Just open the page and click the "View your comiXologyy books" link and go to "Backups". Note: any books purchased in the new comiXology updated app or through Amazon will not come with DRM-free downloads.
FAQ 1: Is the comiXology app going away?
Nope! Our new comiXology app is coming soon and will feature flexible filtering and sorting, new book navigation features, faster, more reliable downloads, read-while-downloading, and instant reading on Android devices.
FAQ 2: What can I do to prepare for the new comiXology app update?
To make this as seamless as possible, we recommend you take the following steps:
Enjoyed this? Please share on social media!