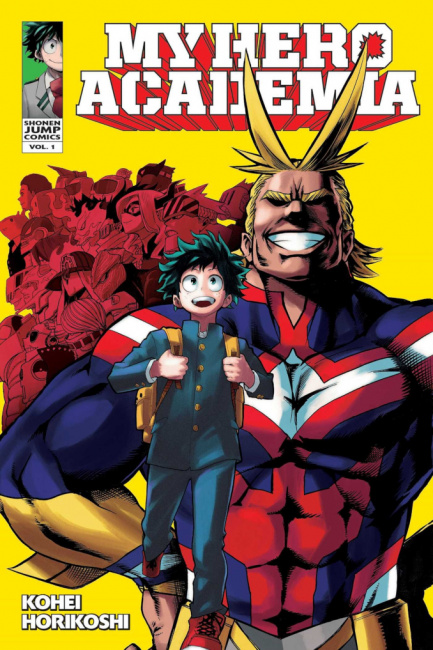 There are a lot of early volumes on the list of the Top 20 Manga in the book channel, based on NPD BookScan data for January (1/3/21-1/1/22) provided to ICv2.
Readers started a lot of series in 2021: The top seller of the year is Volume 1 of Attack on Titan, and six other first volumes make the chart, along with four Volume 2s and three Volume 3s. It looks like a lot of readers were picking up series and staying with them.
In terms of which series were most popular, there were seven volumes of My Hero Academia on the chart, four of Demon Slayer: Kimetsu no Yaiba, and three each of Attack on Titan and Chainsaw Man.
This chart mirrors the 2020 full-year chart in several respects (see "Full Year 2020 NPD BookScan – Top 20 Author, Manga, Superhero Graphic Novels"): The top title in 2020 was also Volume 1 of My Hero Academia, and that series also had the most volumes on the chart (11); Demon Slayer: Kimetsu no Yaiba, came in second with four volumes. Absent from that chart were Chainsaw Man, which launched in late 2020, and Attack on Titan, which launched in 2012 and had dropped in popularity until the anime, and the end of the manga series, revved up interest once more.
NPD BookScan Top 20 Manga Graphic Novels – 2021 (1/3/21 – 1/1/22)
Rank
Title
Author
Publisher
1
ATTACK ON TITAN VOL. 1
HAJIME ISAYAMA
KODANSHA COMICS
2
MY HERO ACADEMIA VOL. 1
KOHEI HORIKOSHI
VIZ MEDIA
3
DEMON SLAYER: KIMETSU NO YAIBA VOL. 1
KOYOHARU GOTOUGE
VIZ MEDIA
4
CHAINSAW MAN VOL. 1
TATSUKI FUJIMOTO
VIZ MEDIA
5
MY HERO ACADEMIA VOL. 2
KOHEI HORIKOSHI
VIZ MEDIA
6
TOILET-BOUND HANAKO-KUN VOL. 1
AIDAIRO
YEN PRESS
7
JUJUTSU KAISEN VOL. 1
GEGE AKUTAMI
VIZ MEDIA
8
MY HERO ACADEMIA VOL. 28
KOHEI HORIKOSHI
VIZ MEDIA
9
DEMON SLAYER: KIMETSU NO YAIBA VOL. 2
KOYOHARU GOTOUGE
VIZ MEDIA
10
MY HERO ACADEMIA VOL. 26
KOHEI HORIKOSHI
VIZ MEDIA
11
MY HERO ACADEMIA VOL. 27
KOHEI HORIKOSHI
VIZ MEDIA
12
MY HERO ACADEMIA VOL. 29
KOHEI HORIKOSHI
VIZ MEDIA
13
MY HERO ACADEMIA VOL. 3
KOHEI HORIKOSHI
VIZ MEDIA
14
DEMON SLAYER: KIMETSU NO YAIBA VOL. 23
KOYOHARU GOTOUGE
VIZ MEDIA
15
DEMON SLAYER: KIMETSU NO YAIBA VOL. 3
KOYOHARU GOTOUGE
VIZ MEDIA
16
ATTACK ON TITAN VOL. 2
HAJIME ISAYAMA
KODANSHA COMICS
17
CHAINSAW MAN VOL. 2
TATSUKI FUJIMOTO
VIZ MEDIA
18
CHAINSAW MAN VOL. 3
TATSUKI FUJIMOTO
VIZ MEDIA
19
DEATH NOTE BLACK EDITION VOL. 1
TSUGUMI OHBA
VIZ MEDIA
20
ATTACK ON TITAN VOL. 34
HAJIME ISAYAMA
KODANSHA COMICS
Source: The NPD Group/BookScan
NPD BookScan collects weekly point-of-sale data on print books from over 16,000 locations including e-tailers, chains, mass merchandisers, independent bookstores, and more. NPD BookScan covers approximately 85% of the U.S. trade print book market. The ranks on this chart are based on piece sales. Some publishers classify titles that are primarily text, or art books, as graphic novels; we've removed those titles from the ranking above.
For past BookScan Top 20 Graphic Novel lists, see the "BookScan Top 20 GN Index."