Home » Pop Culture » Walter Mosley Writing Marvel Comics The Thing Limited Series
Every so often, Marvel or DC Comics gets a guest writer that seems like someone had to break open the multiverse for it to happen. Jodi Picoult writing Wonder Woman. China Melville writing Dial H for Hero. Ta-Nehisi Coates writing Black Panther and Captain America. But now we're adding one name to that list that no one saw coming. Walter Mosley, the legendary crime noir author, is writing a series for Marvel Comics. However, even more interesting is the character he chose to focus on: The Thing of Fantastic Four.

(Image: Marvel Comics)
Ben Grimm is the perfect character for Mosley, even if some would rather him write Luke Cage or Misty Knight. Yes, he brought the Black experience to noir novels, but you can only be a pioneering writer so many times, right? However, Ben Grimm is a lot like Mosley's characters. He's rough…literally. His skin is made of rocks. But he also has a big heart. Mostly, he wants to protect his corner of the world, Yancy Street. So, that's what we can expect with Walter Mosley writing for Marvel Comics. As the description reads:
Written by Mosley and with art by Tom Reilly (X-MEN: MARVELS SNAPSHOTS), the story will range from the urban sprawl of the alleys of Manhattan to the furthest reaches of the cosmos itself. In THE THING, a lonely evening and a chance encounter (or is it?) sends Ben Grimm embarking on a sojourn that will have him confronting—and battling—figures both old and new.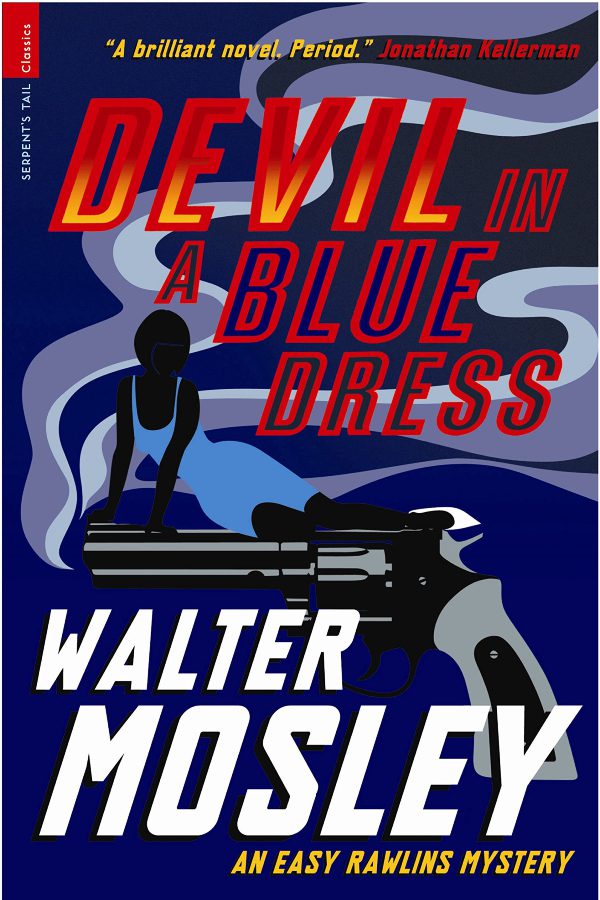 (Image: Serpent's Tail Classics)
Never let anyone tell you that you are too old or even too accomplished to follow your dreams. In 1991, Mosley rose to prominence in the crime genre with Devil In a Blue Dress. Devil captured the spirit of early Noir writers such as Raymond Chandler and Dashiell perfectly. In fact, I might have accidentally listed his work in a college paper called "Noir Novels of the Early 20th Century." And yes, Professor Finnegan asked for an entire rewrite. But to the point, Walter Mosley is an esteemed author, one you wouldn't expect to write a Marvel Comics series starring a character called Thing. "Thing" is, after all, the worst word in a writer's toolbox.
But the – ahem – thing is, dozens of "esteemed" novelists love comics and superhero stories. Joyce Carol Oates once wrote a blurb for one of her favorite series, Hellboy. She also defended Mad Magazine when Time called it "guilty pleasure," saying:
"Why Guilty? is wonderfully inventive, irresistibly irreverent and intermittently ingenious…No one who admires Mad magazine really feels the need to apologize or defend ."
With Walter Mosley writing a Marvel Comics series, the entire medium benefits. Comics become more respectable, colleges increase their graphic novel literature courses, and I make more money. Thanks, Walter!
What infamous and unexpected authors do you want to see writing for Marvel Comics? Personally, I'd love to see Samuel Delaney write a Silver Surfer comic.

(Featured Image: Marvel Comics)
Roman Colombo finished his MFA in 2010 and now teaches writing and graphic novel literature at various Philadelphia colleges. His first novel, Trading Saints for Sinners, was published in 2014. He's currently working on his next novel and hoping to find an agent soon.
Euphoria, the new HBO series, is no stranger to controversy. Even before it premiered on June 16th, it was already creating buzz, similar to actress Zendaya's other work (e.g. this Malcolm & Marie review). However, […]
The most recent issue of The Punisher sends a clear message to police officers who look to the serial-murdering vigilante as a role model.
First Appearance of Mysterio: Amazing Spider-Man #13Created by Stan Lee and Steve Ditko Now that many of us have seen Spider-Man: Far From Home, let's get to know the great illusionist a little better. Mysterio […]
(function() {
var zergnet = document.createElement('script');
zergnet.type = 'text/javascript'; zergnet.async = true;
zergnet.src = (document.location.protocol == "https:" ? "https:" : "http:") + '//www.zergnet.com/zerg.js?id=89151';
var znscr = document.getElementsByTagName('script')[0];
znscr.parentNode.insertBefore(zergnet, znscr);
})();
Comic Years is the go-to source on news, discussion, and community for comics, movies, gaming , anime and TV!
Sign up to our newsletter and receive weekly up-to-date news & monthly amazing giveaways!*