Home » COMICS » Marvel » Who Is Gilgamesh? A Look At Marvel Comics' Eternals Characters
When the Eternals movie was first announced at SDCC 2019 for the MCU's Phase 4, people had questions. Who the heck were these Eternals? How will they fit into the MCU? Well, now we know (kind of). Marvel Studios released the final Eternals trailer and fans got a clearer picture of what these beautiful superheroes will be doing in the MCU. We wrote about the history of the Eternals, but basically, they're the creation of divine beings, the Celestials (Ego, Peter Quill's father, was one of these beings). The Celestials created early humanoids as a way to kickstart human evolution, thus creating the Eternals (the gorgeous, good-hearted ones) and the Deviants (the ugly, evil ones). The former was tasked with protecting Earth (and later, humankind) from the wicked plans of the Deviants. While we've gotten a glimpse of these new characters, I'm going to take a closer look at each of the 10 new superheroes. In this first post of the series, I'm asking: who is Gilgamesh?
Gilgamesh (also known as Hero or The Forgotten One) is played by Korean actor Don Lee, is by far one of the strongest physically of the Eternals. He can easily lift over 100 tons and has been compared to Hercules throughout history. Like the other Eternals, he possesses the ability to fly, manipulate matter, and can shoot powerful forces from his eyes and hands. Gilgamesh also has five highly developed senses due to his former blindness, which makes him an excellent hunter and tracker.
Gilgamesh is the best hand-to-hand combatant among the Eternals and he's very knowledgeable in all methods, especially in ancient Earth civilizations. He possesses armor of unknown composition (maybe the same material that the ten rings came from??) and he usually carries a simple hand weapon. Whether it's an axe, spear, or club, Gilgamesh is always battle-ready.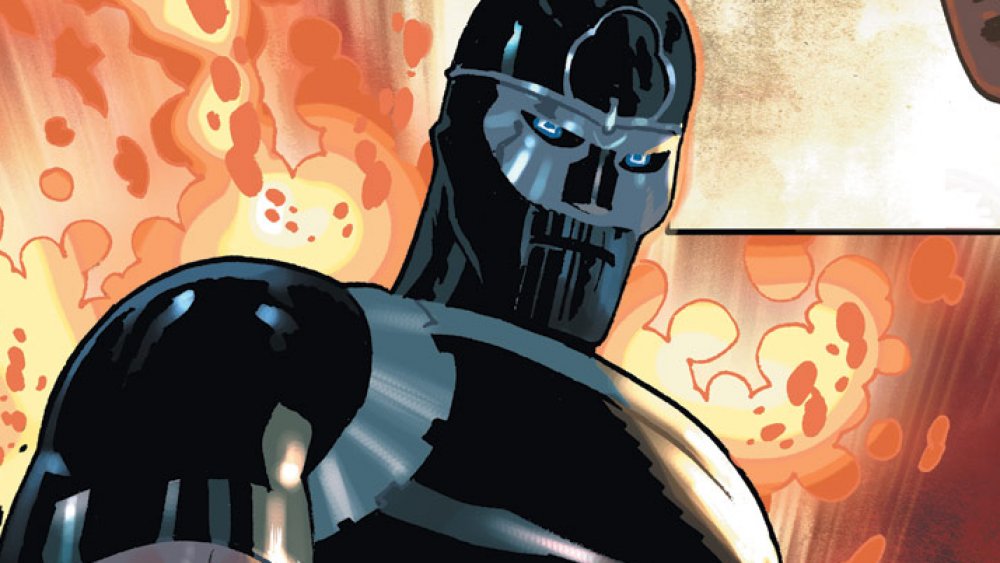 Image via Marvel Comics
Gilgamesh was one of the original Eternals created by Jack Kirby in the 1970s, although he's gone by many names throughout the years. Similar to the other Eternals, Gilgamesh has roots in Greek mythology and actually helped and battled Hercules. He was known as The Forgotten One early on thanks to his banishment to Olympus by the Eternals' ruler, Zuras. Later, after the battle with the Deviants, he was renamed Hero by the One Above All (who is essentially the head of the Celestials) and then later renamed himself Gilgamesh after joining and helping out the Avengers.
Talking about his character, Lee said that Gilgamesh has a deep connection with Angelina Jolie's Thena, but whether it's romantic or platonic is yet to be seen.
Are you excited to learn more about Gilgamesh? How do you think his relationship with the other characters will play out? Let us know in the comments below!
Featured image via The Outlaws/Megabox Plus M


Keilin Huang is a freelance writer that likes the Oxford comma, reading from her neverending pile of books from the library, and Reeses peanut butter cups. She thanks her Dad for introducing her to his Superman comics and probably majored in Journalism because of Lois Lane. Contact her at [email protected]
Marvel Entertainment, LLC the owners of Marvel Comics®, recently licensed Certified Guaranty Company® (CGC®) with rights to create certification labels that will feature some of the most iconic characters of Marvel. Marvel legend characters that […]
Recently, 20th Century Fox released another X-Men trailer. Dark Phoenix features Jesica Chastain. She acts as a mysterious foe. The trailer debuted in The Tonight Show with Jimmy Fallon. Many X men phoenix fans are […]
Serial Box is a publishing firm that has managed to gain the public's attention by telling stories in several new ways. The firm is now focusing on telling stories that focus on superheroes with its […]

Comic Years is the go-to source on news, discussion, and community for comics, movies, gaming , anime and TV!
Sign up to our newsletter and receive weekly up-to-date news & monthly amazing giveaways!*