Home » COMICS » X-Men Marauders Not Canceled! New Creative Team Taking Over After Inferno
Considering that Marvel's December 2021 solicitation for Marauders #27 says – in all caps – "THE SUN SETS ON THE MARAUDERS," it's easy to see why fans thought Marvel had canceled the popular series. Kate Pryde's team of mutant pirates was one of the surprise hits in the early Dawn of X era. It was also one of the most consistently wonderful X-books for the past two years. So, it was puzzling that the series might conclude. But, good news! The X-Men pirate book is not canceled, but the Marauders will have a new creative team.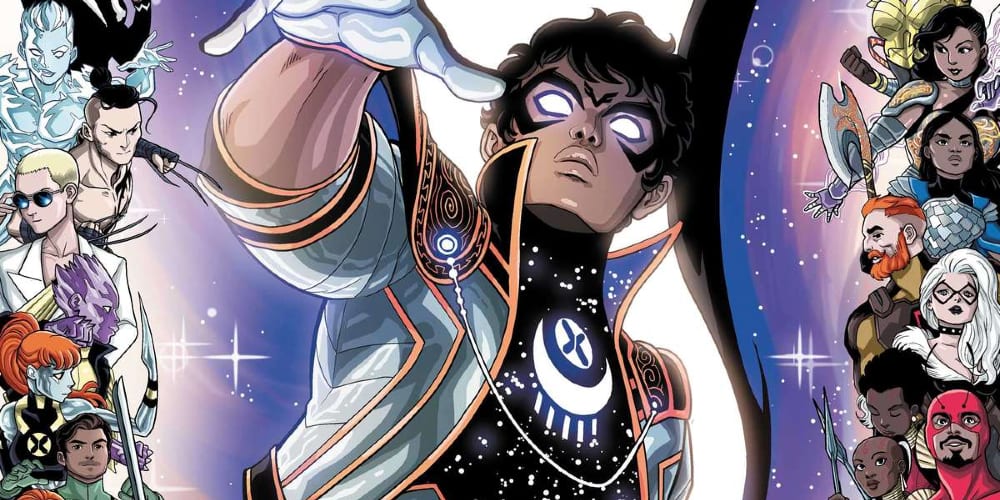 (Image: Marvel Comics)
The initial Marauders team is magnificent. Pyro, Iceman, Bishop, White Queen, and Storm rounded out Kate's crew. But a lot has happened since then. Storm already left. Not only is Storm a member of the quiet council, but she's also now the Regent of Sol and head of Arrako's Quiet Council counterpart. In fact, for the third time, she just defeated a powerful mutant with no powers of her own. Tarn the Uncaring learned the same lesson that Calisto and Cyclops learned before him: Storm's powers are just an asset, not her entire being. So, one member down.
But that's not the only reason that X-Men fans thought Marvel canceled the Marauders. After Solemn, the "Loki to Wolverine's Thor," manipulated the Russians to burn down the Marauder, they were without a ship, so that might be why more members disbanded. However, Emma had a much more compelling reason: Solemn killed her little brother, Christian. So Emma might want to take a step back and focus on her role on the Quiet Council. Plus, we have no idea what will happen to her in Inferno.
In fact, the only team members remaining are Captain Kate Pryde, the Red Queen, and her Red Bishop…Bishop, now the Captain Commander of Krakoa since Cyclops stepped down. So, while not canceled, the Marauders is almost a new X-Men series. Joining the crew on a new ship is Daken and Aurora coming from X-Factor. Then we have Psylocke, leaving the Hellions. Also, Tempo, who nearly became one of the new X-Men. And, finally, Somnus – a new queer superhero introduced in Marvel Pride. While it's an excellent roster, the book doesn't feel right without Pyro and Iceman, especially since Pyro admitted that the team made him a better person.


(Image: Marvel Comics)
After Jonathan Hickman taking a significant step back from the X-Books, Gerry Duggan filled the "Head of X" void. The Hellfire Gala was a Marauders event. He wrote the now-infamous Planet-Size X-Men, when the mutants transformed Mars into a planet for Arakko. And he's writing the flagship title, X-Men. With all of his new duties to the franchise and probably another project, it was time to name a new captain for his ship.
And that Captain? Steve Orlando. Orlando's first issue will be Marauders Annual #1, coming in January. Orlando had hit runs on Wonder Woman and Martian Manhunter over at DC and has recently started small Marvel projects. Co-creating Somnus was one of those projects. But the Marauders marks a new career milestone. "Taking the helm of MARAUDERS is easily the most exciting moment of my career, especially when it's my first-ever ongoing not just on Krakoa, but at Marvel in general," Orlando said in Marvel's announcement. "Exploding out of the team's already-amazing adventures as part of Hellfire Trading, Captain Pryde's new crew of Marauders will stop at nothing to bring endangered mutants to safety — to always go where they're needed, not where they're wanted. To mutant rescue, wherever it calls them!"
It looks like quite a few changes are coming with Inferno, which ends in December. But after the Dawn and Reign of X…what comes next?
Roman Colombo finished his MFA in 2010 and now teaches writing and graphic novel literature at various Philadelphia colleges. His first novel, Trading Saints for Sinners, was published in 2014. He's currently working on his next novel and hoping to find an agent soon.
Marvel Entertainment, LLC the owners of Marvel Comics®, recently licensed Certified Guaranty Company® (CGC®) with rights to create certification labels that will feature some of the most iconic characters of Marvel. Marvel legend characters that […]
Serial Box is a publishing firm that has managed to gain the public's attention by telling stories in several new ways. The firm is now focusing on telling stories that focus on superheroes with its […]
Certified Guaranty Company, i.e, CGC is a grading company for comics. They announced that Marvel Entertainment LLC has granted it rights to create a lineup of certification labels featuring the most iconic Marvel characters – […]
Comic Years is the go-to source on news, discussion, and community for comics, movies, gaming , anime and TV!
Sign up to our newsletter and receive weekly up-to-date news & monthly amazing giveaways!*